Dextrin from VIMAL is heat-treated starch produced from potato or corn starch. Dextrin is one of few starch glue permitted for application in food industry. Dextrin - one of the cheapest starch glue!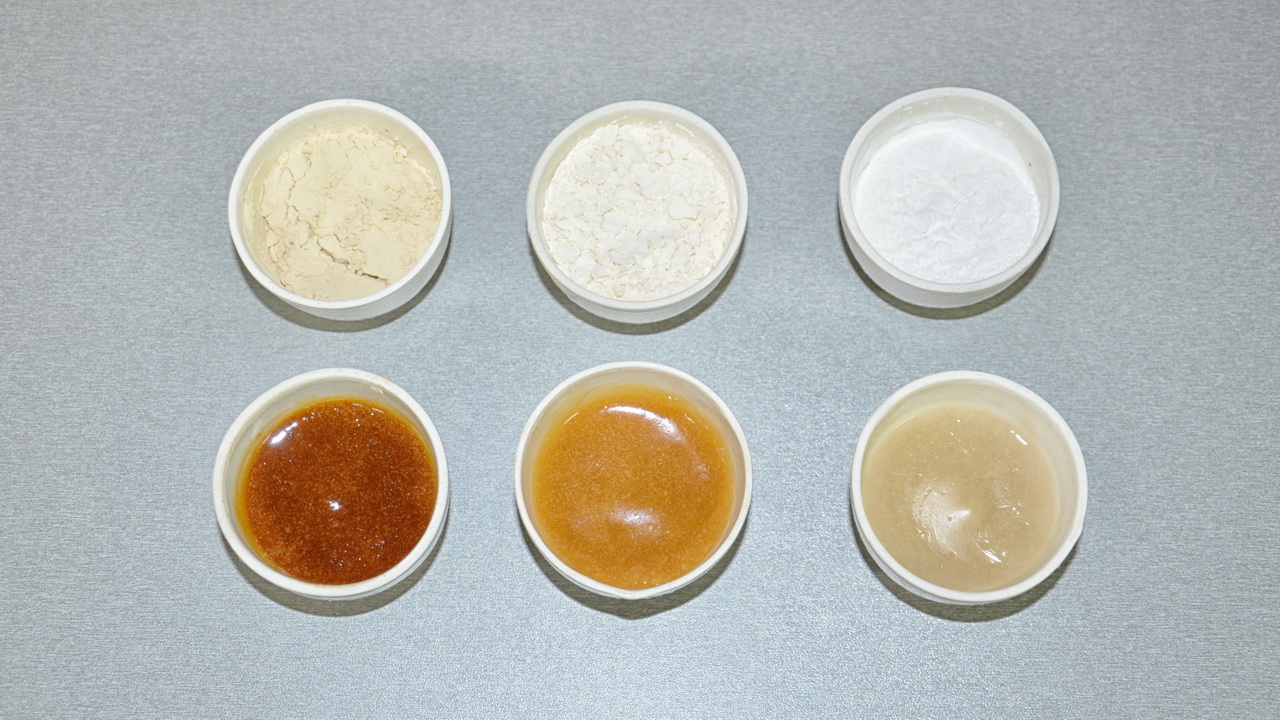 Dextrin types, depening on its collor. From left to right: brown, yellow, white. There are both dry powder and ready glue shown on the picture.
Application
Potato Dextrin from VIMAL is great as a strengthening substance for the forming sand in the foundry engineering and morevoer it will work as an stabilizer. All this will increase surface compliance during the sealing process and eliminates the possibility of notching appearence.
If to compare with corn dextrin, potato one has two time higher gluing ability
Our dextrin is also irreplaceble in the pyrotechnic production where the pyrotechnic substance takes needed formes and easily stricks to other materials. This glue also is used for gunpowder granulation, takes a part in the fireing process and with help of it you can adjust the speed of fireing, by changing the ratio of dextrin in substance. Thanks to the dextrin's plasticity it is also used for abrasive tools production.
The main difference between corn and potato dextrin water solutions is that potato one is much more thick, viscous and plastic.
Potato Dextrin from VIMAL will help you in different field of agriculture, mainly for adhesives production, namely: for packs pasting, for glass containers labeling or for adhesive paper tape preparation or coin wrapping in bank institutions and for food containers production, or it is used in match industry and as a glue for stamps and envelops. Dextrin is also great for paper and cardboard production like paper tubes, cardboard protection corners, boxes or even for glueing of the cardboard layers. Dextrin mixture is also able to thicken textile paints thus it is irreplaceable in the light industry.
VIMAL Potato Dextrin is also used:
in light industry –to growth in textile ink density;
in the foundry industry - for bonding foundry sand;
for agglomeration of ores, coal briquetting, insecticides pelletizing;
in the manufacture of glass fiber - for grinding threads immediately after their formation;
in food industry dextrin with high solubility in cold water is used as carriers of active ingredients of food powders and pigments.
Technical data
No.
Characteristics
Values
1
Form
Homogeneous powder
2
Color
White
Yellow
Brown
3
Odour
Characteristic for dextrin
4
Moisture content

,

%
5
5
5
5
Acidity сm3/100 г
3,5 - 4,5
6
Number of black spots per 1 dm2
500
7
Ash (on dry base)
0,4
8
Acidity for 100g using 0,1M NaOH, max
50
9
Solubility in cold water, %, min.
62
95
78
10
Metal foreign matter
Absent
11
Mesh size-pass through 85 mesh, % min.
99
12
GMO content

Absent

13
Chloride, % max.
0,2
14
Crude Fat, % max.
1
15
Lead, mg/kg max.
1
16
Protein, % max.
0,5
17
Sulfur Dioxide, % max.
0,005


Storage
Dextrin should be stored in dry, well-ventilated areas free of any foreign odor and not contaminated by grain stocks pests.
Identification
VIMAL Dextrin - heat-treated potato or corn starch approved for use in food processing, light industry, printing, coal industry and engineering.Identification number is E 1400.